Free .NET Windows Forms Control & DLL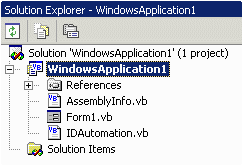 The Freeware .NET Barcode Forms Control DLL by IDAutomation may be used by individuals and organizations that have gross annual revenue of less than $500,000 USD or are classified as nonprofit for tax purposes, excluding government and military organizations. This product may also be freely used by educational organizations, such as schools and universities. This freeware license is granted in the Free License section of our License Agreement. Any other use requires a purchase of the Windows .NET Forms Control to remain properly licensed.
The free .NET Barcode Forms Control supports Code 39 and Extended Code 39 and includes a Visual Basic .NET example for Visual Studio. The standard version includes all the other popular barcode types including UPC, EAN, Code 128, Interleaved 2 of 5 and Postnet. All other functionality of the control is the same as the standard version.