Download the .NET Standard & .NET Core Barcode Generator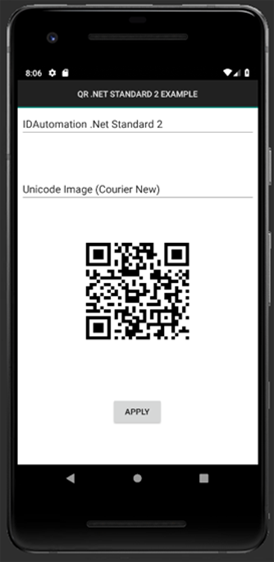 Each download includes native barcode generation files in C# .NET and VB .NET. Xamarin and .NET generator example projects are also included in the download. The source code files are compatible with .NET Standard 2.0 & .NET Core 2.0. Supports Code 128, GS1-128, ITF, Code 39, Data Matrix, QR Code and PDF417.
DEMO Limitations:
The demo versions contain static barcode data that may only be used to demonstrate compatibility and basic functionality. The licensed version is fully-functional and does not require license keys or activation.
Or download demo versions:

Code 128 (with GS1-128, Code 39 and ITF)
NOTE: The .NET Standard Barcode Generator is sold as a component that does not require the use of barcode fonts, and as a font encoder that is included in the Developer License Packages of the Linear Universal Barcode Font, GS1-128 Barcode Font, Data Matrix, PDF417 and QR-Code fonts.
Portions of this product utilize IDAutomation USA Patent 7,637,436