Crystal Reports Data Matrix Native Barcode Generator
Generate 2D Data Matrix ECC200 and GS1 Data Matrix in Crystal Reports "natively" without UFLs or fonts.

Supports GS1-DataMatrix in ASCII encoding mode.

Includes GS1 HRI (human readable interpretation) formula.
ECC-200, ANSI/AIM BC11, and ISO/IEC 16022 specification compliant.
Symbologies and standards supported include DOD UID, MIL-STD-130, ISO/IEC 15434, AIAG, and others.
Implementation is easy; copy and paste the object into the report.
The Data Matrix object stays embedded in the report, even when it is distributed.
Supports Crystal 9 and up.
Includes patented technology available only at IDAutomation.
Built-in error correction algorithms allow the symbol to be decoded when it is partially damaged.
Complete native source code is provided with purchase.
User Manual Integration Support Download Demo Buy License
Note: This product is only compatible with Crystal Reports and does not include barcode fonts, as they are not required to generate the barcodes.
Data Matrix Crystal Report Generator Overview
A single Crystal Reports RPT file (Data Matrix.rpt) provided in this package supports all 2D Data Matrix barcode types and encoding modes by a modification in the first part of the formula as described in the tutorial.
For Example:
To change the encoding mode to encode binary data or bytes of a file, modify EncodingMode = E_BASE256.
To force a symbol larger than the current size, change PreferredFormat.

GS1-DataMatrix symbols are generated by encoding the FNC1 character "~1" when processTilde is enabled.

For example, the following modification encodes the GS1 data of (01)3456789012345(15)171231:
DataToEncode = "~1" & "01345678901234515171231"
EncodingMode = E_ASCII

To automatically format GS1 HRI (human readable interpretation) data, open the GS1 version of the product and copy/paste the HRI object into your database in the same way as the barcode object. If necessary, refer to the example provided in the download.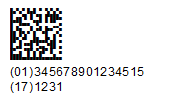 Before production, IDAutomation suggests verifying the result with the Barcode Decoder App.