Barcode Scanners and Integration
Refer to the Barcode Integration Guide about integrating barcode scanning into custom software and apps. IDAutomation offers the Barcode Decoder App & SDK in place hardware scanners which may be used in Xamarin apps.
Scanners Available:
---
Software Scanner App with Source Code: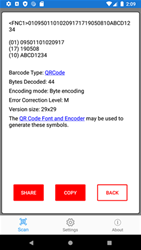 IDAutomation offers the Barcode Data Decoder Verifier App & SDK in place of hardware scanners.
---
Discontinued Scanners:
(discontinued because the decoding chips are no longer available)
SC1500-USB Barcode Scanner
SC5USB-WB Wireless Barcode Scanner
Related Items:

* This product is not available directly from IDAutomation, and may be purchased via the Amazon Affiliate Program. It is recommended by IDAutomation as a result of our many years of experience in the barcode generation software and scanning field.